MainPage:Nuclear:KaonDetector
Jump to navigation
Jump to search
Latest news
The detector assembly is completed! We are working in optimizing some components of the detector, e.g., the reflective material of the inner walls and the PMTs.
The installation of the Kaon Aerogel Detector in the Super High Momentum Spectrometer at Jefferson Laboratory is expected to be done at the end of the Summer 2015.
New aerogel tiles for the Kaon Aerogel Detector! We have four trays with different indices: 1.030, 1.020, '1.015, and 1.011. They are extremely fragile! See pictures on the Construction link bellow.
Detector Construction and Characterization
Detector
Construction
⇒

Pictures

Construction details

Reference Material

---


PMT

Aerogel

Reflective Materials

Sealant
Detector
Components
⇒

Wires

---

Experiments
⇒

Commissioning

Full Detector tests

Prototype tests

Scan Mechanism

---

Simulations and
Calculations
⇒

Calculation of expected signals
x150px
Full Detector simulations
x150px
Prototype simulations
x150px
Scripts and codes
Universities consortium for the construction of this new detector
As part of the upgrades on the Hall C at JLab, a new Kaon Aerogel Detector is under construction by a collaboration of researchers on Particle Physics, lead by Dr. Tanja Horn.
The main purpose of this detector is to be part of the new spectrometer that is being constructed at Hall C, the SHMS.
For the execution of the project, a consortium was established with the following institutions:
Two other partners are also engaged on this project, as unfunded institutions:
This project is founded through a NSF grant: PHY-1039446.
General Aspects on the Detector
The design of this detector is based on proven technology and benefits from many years of experience that JLab acquired on the usage of aerogel detectors.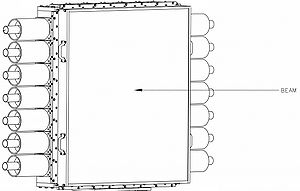 The idea behind an aerogel detector is to make possible the triggering of events (particle) from a nuclear reaction for the selection of particles momentum. Together with other information on the experiment (e.g. beam energy and spectrometer angle), it makes possible the particle identification (PID) from a nuclear reaction.
The special characteristic of an aerogel detector for the PID is a threshold that happens with the Cerenkov radiation phenomenum. Only particles above a threshold velocity will produce this effect. The threshold is directly related to the refractive index of the aerogel inside the detector.
The detector that is under construction in this project will feature three trays of aerogel, each with a different refractive index. This design will provide the flexibility to change the threshold on the momentum selection of the particles, and thus cover the full kinematic range needed by the experiments. Aerogel material of two refractive indices is already at hand.
More details on this detector can be find in the special pages above (construction, simulation, assembly, ...) and also in the Publication page of our group.